GOURMET GOLF CRUISINGAT ITS FINEST
By ANDREW MARSHALL
Try adding a unique experience to your Scottish golf trip and hop aboard the Scottish Highlander for a golf journey by barge along the scenic Caledonian Canal. 
Golf by hotel barge in Scotland, it's an interesting concept. Travelling by this mode of transport harkens back to a bygone era, one of romance and adventure. Combine this with four rounds of golf, ranging from quirky Highland 9-hole courses to some of the planet's best links, add in some mouth-watering cuisine, world-class single-malts and convivial company, and it may just be the ultimate 'golf, leisure and lifestyle' experience.   
Keen to give it a try, I board European Waterways' Scottish Highlander for a week-long cruise tailor-made for golfers – a journey from Banavie (near Fort William) to Muirtown (near Inverness) along the scenic Caledonian Canal, with views of snow-capped Ben Nevis, across mysterious lochs where ancient castles perch on heather-clad hillsides, home of red deer and golden eagle. 
"Welcome aboard the Scottish Highlander and help yourself to glasses of champagne," says Captain Mick Forster, as introductions are made and cruising golf guests shown to their cabins. Born and bred in North Yorkshire, Mick knows these waterways like Tiger Woods knows the contours of Augusta National's greens. 
Built in Holland in 1931 to carry grain and converted into a hotel barge in 2000, the spacious eight passenger vessel has the atmosphere of a Scottish country house with tasteful use of tartan furnishings and landscape paintings. Every conceivable comfort has been thought of including: cabin heating, pressure showers, a snug saloon, library, fishing gear and bicycles. 
Powered by a 120-hp Gardiner diesel, the Scottish Highlander cruises along at a steady 3 knots. "She never misses a beat," says Mick, as we motor along the Caledonian Canal towards Gairlochy on the morning of our second day. The majestic Caledonian Canal was built in 1822 to provide a speedy link for sailing boats and freight vessels between the North Sea and the Atlantic Ocean. It is 60 miles (96.6km) in length, of which about a third is a man-made cutting which links a chain of natural lochs – Loch Lochy, Loch Oich, Loch Ness and Loch Dochfour. 
Our golfing trip afloat quickly develops into a relaxing lifestyle, watching the scenery unfold from the observation deck, visiting the Ben Nevis whisky distillery and playing golf. First up is 18 holes at Newtonmore, a parkland course beautifully situated amongst the Monadhliath and Grampian Mountains with the river Spey bordering its side – a good chance to warm up before the more demanding golf courses ahead.
On day three, we moor up in historic Fort Augustus beside the five-lock staircase in the village centre, bordered by quaint cottages and the appropriately named Lock Inn, a popular spot for a canal side pint. After a hearty lunch of Navarin of Lamb with thyme, parsley and bay leaf, we are driven to the village outskirts where the quirky component of our 'golf-and-barge' experience awaits. 
Situated on moorland ground, on which crofters grazed their stock, the 9-hole layout of Fort Augustus established in 1930 is as raggedy around the edges, as the wiry heather that lines the fairways. The greenkeepers are sheep and one of the  local rules states: 'A ball lying on sheep wool, or made dirty by sheep droppings, may be lifted and cleaned without penalty.' Fort Augustus is still great fun though, but be careful not to slice your tee shot on the par-5, 6th and 15th, appropriately named Canal. 
Every evening, around cocktail hour Jim McGarry the chef emerges from the galley kitchen and announces the dinner menu. "Tonight, we'll be having highland pie, which is made of ground beef, mashed potatoes, beer, and 'a little bit of that stuff from the top shelf' all marinated overnight," he says. "Then we'll finish off with baked apple followed by a cheese platter." The cheeses are a culinary highlight – from Orkney Smoked Cheddar, and Scottish Brie to goat cheese made by Donald John, the lock keeper at Dochgarroch, all paired with a selection of quality French and New World wines.  
After leaving our mooring at Fort Augustus we cruise across the mighty waters of Loch Ness. At 22 miles (38.6 km) long and up to 1.5 miles wide (2.4 km), its surrounding mountains enter the water dramatically enough to form sheer underwater cliffs. Nobody knows for certain if monsters inhabit the near 300m (1000-ft) depths, but certainly its peat-darkened waters would be the perfect place for such a legend as 'Nessie' to hide.  
Our third round is at the testing Castle Stuart Golf Links, a 20-minute drive from the Scottish Highlander's mooring at Dochgarroch hamlet. This top-drawer layout with links characteristics overlooking the Moray Firth, is a delight to play, offering beautiful views and endless photo opportunities. You will be reaching for the camera rather than a club at the scenic par-3 4th, played towards beautiful Castle Stuart and the inspiration for the course name.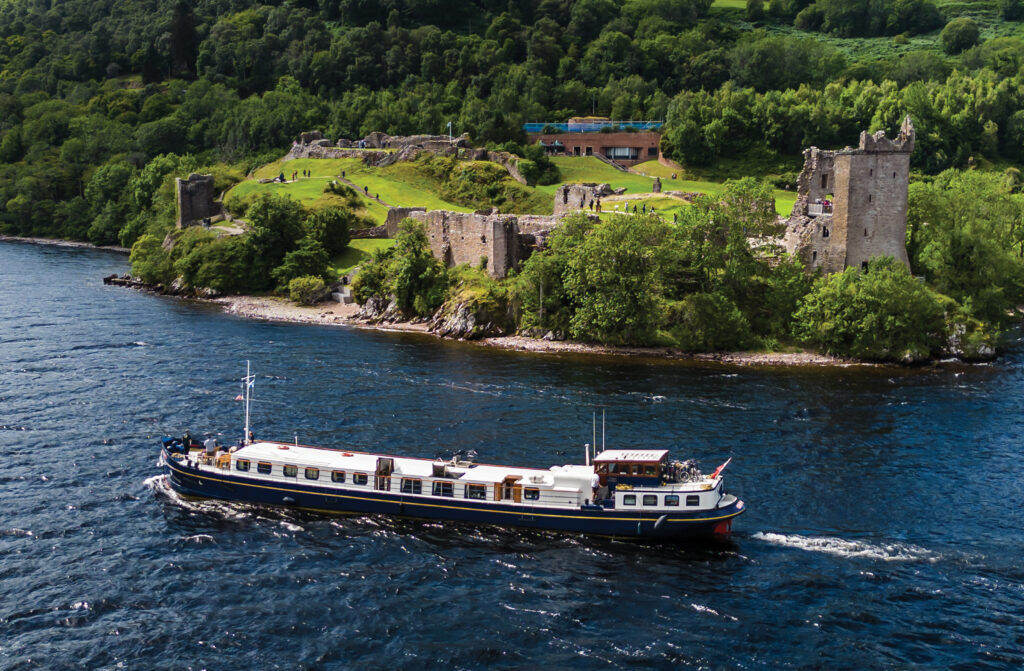 Our final round is at one of Scotland's most famous and ancient courses, Royal Dornoch, where golf was first played as far back as 1616 when the Earl of Sutherland ordered clubs and balls to take up the game that was becoming so popular further south. Old Tom Morris was the architect responsible for extending the original 9-hole layout to 18 holes in 1886.
Framed between the hills and mountains to the left and the wild North Sea, Royal Dornoch's rich tapestry of undulating fairways, pot bunkers and plateau greens are interspersed with flowering yellow gorse particularly in spring. Although the front nine is delightful, with the par-3 6th known as Whinny Brae being a highlight, it's the back nine where the real golf examination begins. 
Multiple British Open champion and links aficionado Tom Watson probably summed up Royal Dornoch the best when he said, "This is the most fun I have had playing golf in my whole life." And Mr. Watson's very same words could easily be applied to a week's Gourmet Golf Cruising on European Waterways' Scottish Highlander…  Visit www.europeanwaterways.com for more details on the itinerary currently available.