Set of the Week is courtesy of FINIS, a SwimSwam partner.
[Livermore CA, November 21, 2023] We are thrilled to announce the release of our latest innovation, the Smart Goggle Max – the latest addition to our Smart Goggle lineup. Building on the success of our original Smart Goggle, the Smart Goggle Max takes the world of swimming to a whole new level, offering an even wider frame for swimmers of all levels.
In 2020 FINIS launched the Smart Goggle, which offers real-time insights while you swim and an entire workout overview in-app at the end of each swim. While the first Smart Goggle was built with a smaller frame, the Smart Goggle Max provides a wider field of view fit for swimmers and triathletes alike.
In another exciting development, we are proud to share that the Smart Goggle Max has received approval for use in triathlons, making it the ideal companion for multi-sport athletes seeking a cutting-edge wearable for their swimming leg.
Triathlon-Approved Excellence: The Smart Goggle Max has officially been approved for use in triathlons, marking a significant milestone in our commitment to providing innovative solutions for athletes across diverse disciplines. Now, triathletes can enjoy the benefits of our state-of-the-art smart goggle technology as they conquer the challenges of swimming in competition. The FINIS Smart Goggle is now legal in the following: World Triathlon, Super League Triathlon (SLT), Professional Triathletes Organisation (PTO), USA Triathlon (USAT) and any World Triathlon-sanctioned races.
Designed to help swimmers improve and meet their fitness goals, the in-goggle display and activity tracker gives real-time feedback to help you track your distance and time allowing you to get the most out of your swim. Once you're out of the water, the app provides an in-depth analysis of your workouts, logs your history, and allows you to connect with friends and fitness apps.
"Like the original Smart Goggle, the Smart Goggle Max uses the same removable Coach Module, because goggles tend to wear out. Many will find the new silicone "around the eye" gasket more comfortable and with a wider field of view. Like the original, the Max is the lowest-profile Smart Goggle on the market today."
– David Beittel, Sr Industrial Designer.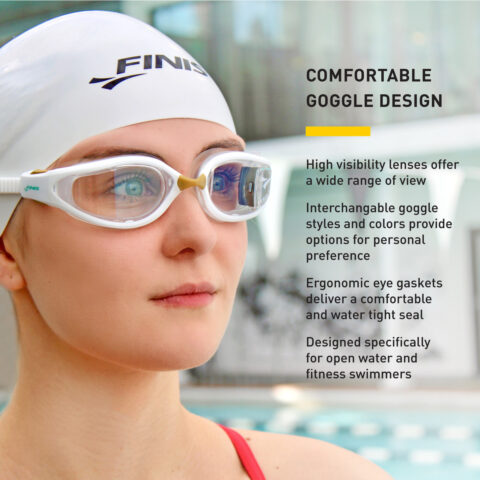 Key Features:
Wider Frame and View: The Smart Goggle Max boasts an expanded field of vision, providing swimmers and triathletes with an unparalleled visual experience.
Compatibility with Smart Coach: Are you already in love with our original Smart Goggle? The Smart Goggle Max is fully compatible with our existing Smart Coach technology, providing swimmers with real-time feedback on their performance. Now, you can choose between two style options and various colors that suit your preferences.
Ultimate Comfort: Crafted with premium materials and a user-centric design, the Smart Goggle Max ensures ultimate comfort and a secure fit.
Durability: We understand the demands of underwater activities. That's why the Smart Goggle Max is engineered for durability, ensuring longevity even in the harshest swimming conditions.
Innovative Design: The Smart Goggle Max's sleek and modern design doesn't compromise looks for functionality. The non-invasive display is housed in the left corner of the goggles.
"Whether you're swimming competitively or just for fitness, the smart goggle allows you to see what you're capable of in practice, which is extremely motivating. I am pleased that we now have a second goggle style to accommodate the likes of swimmers of every level."
-John Mix, FINIS Co-Founder
Available in 2 Colors:
The Smart Goggle Max is available for pre-order today and will ship at the end of November.  Dive into the future of swimming with the Smart Goggle Max, and experience a wider and more immersive world beneath the water's surface. Click here to Pre-order the Smart Goggle Max.
About FINIS, Inc.
John Mix and Olympic Gold Medal swimmer Pablo Morales founded FINIS in Northern California in 1993 with a mission to simplify swimming for athletes, coaches, beginners and lifelong swimmers around the world. Today, FINIS fulfills that mission through innovation, high-quality products and a commitment to education. FINIS products are currently available in over 80 countries. With a focus on innovation and the fine details of swimming, FINIS will continue to develop products that help more people enjoy the water.